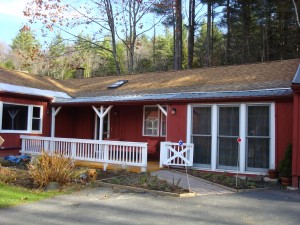 A 630 square foot studio apartment with a private entrance offers guests all the amenities of home.  It features a large, bright, comfortable live-in area with ceiling to floor windows, a queen size bed, Direct TV with over 100 channels, wi-fi, Netflix access via laptop, I-Pod jack, CD player and air conditioning.  Try your hand again at classic board games, backgammon or card games.  Mini library and CD selection.
Bathroom with shower.
Large fully equipped kitchen, should you want to prepare meals or snacks, with a full size oven and refrigerator, eat-in dining area, microwave, coffee maker, toaster, food processor, waffle maker, a selection of teas, Pierce Brothers organic coffee, hot chocolate, cold and hot cereals for your enjoyment.
If you have more than two people in your party, please see available overnight options.
Attached indoor garage.
Visitors can use the adjoining deck and garden and enjoy walks with their pets on beautiful, quiet country roads.
For guests with feline companions, there is now a wonderful outdoor cat house that is connected to the main house.  Several of the resident cats have been enjoying the great outdoors in this new facility…warm breezes, fresh air, dirt to dig and roll around in.  We're delighted to welcome your feline/s (should they accompany you) to this exciting cat experience.
For hiking enthusiasts, there are several area state parks close to the Cottage and other local trails offering hikers a plethora of beautiful choices.
For dogs and people who love to swim, a map showing three nearby river and lake sites for water activities.
Area and regional information and brochures.
If you've forgotten something either people or pet-related, just ask as I probably have it.
If you are interested in a reservation, you may check our availability calendar page.    Because Cavalier Cottage can only accommodate one party of guests at a time, we  recommend that if your desired date/s are available, you secure the space by submitting a $100 deposit, in order to avoid disappointment.
 Additional information pertaining to visiting 4-leggeds:
* There are NO additional fees for bringing pets.
* Dogs are totally unrestricted in the cottage.
* Dogs may be left alone in the cottage when you choose to go out without them.  You may crate them if you so desire, but the Cottage does not require this.  The owner is always more than delighted to check-in on pets if this makes a guest feel more comfortable.
* Dogs have the exclusive use of the adjoining garden and deck for hanging out.
* Beautiful Oxbow Road is a beautiful, quiet country road for dog walks.
* We have dog biscuits, dog bowls, dog bedding and a large wire crate (just in case you need one).
EXTRA PET CARE SERVICES  (available only to companion animals of Cavalier Cottage guests – see fees below)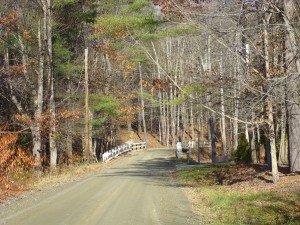 Availability of fenced-in yard
Dog walks (weather permitting)
Pet massage by appointment with Carole Groman, MST, CSAMT, RP of Hand  & Paw Animal Massage -
http://handpawanimalmassage.com
30 minute walk with one dog – $15.00 (with 2 dogs $25.00). Use of fenced in yard – $10.00 for 30 minutes.  If additional daily dog care is required, a special rate can be offered.
Cancellation Policy
Cavalier Cottage understands that plans change and "things" happen so if you are unable to keep your reservation please notify us as soon as possible. We appreciate your consideration and understanding knowing that cancellations can impact a small business significantly. If you notify us more than 14 days ahead, we will credit your deposit toward another stay within six months of your original reservation, or we will refund one half of your deposit. If you cancel your reservation within 14 days of your intended visit, you will forfeit your entire deposit. Our policy applies to a full or partial cancellation.
It helps to have some idea of when you are arriving so we can be here to greet you. Please call 413.625-2262 or email us when you have your plans made.
Please also know that:
Children are welcome
Smoking is only permitted outdoors
Gift certificates are available
Cottage guests are eligible for a 10% discount on all the exciting outdoor activities at Zoar Outdoor.  Visit

www.zoaroutdoor.com

for more details.
Cottage guests are eligible for a $10 discount off daily lift tickets at Berkshire East (a few miles up Route 2 from the Cottage) enabling you to save and enjoy all their exciting winter ski activities.  Visit www.berkshireeast.com for more information.